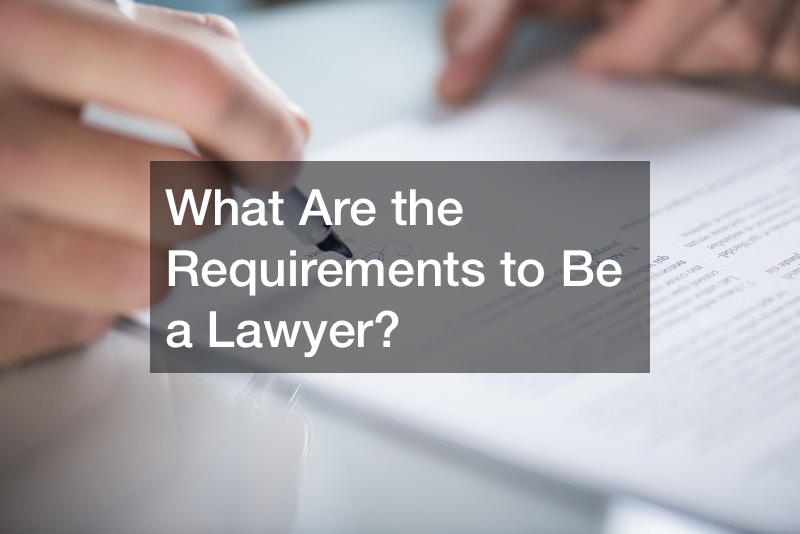 If you have been wondering "What are the requirements to be a lawyer?" then know that you are not alone. Lawyers are required to undergo extensive training and pass necessary tests before they get licensure to practice. The exact requirements to be considered a lawyer may vary from state to state, but educational requirements to become one includes getting certain degrees and taking examinations. You will have to get an undergrad degree and then go to a law school to get a Juris Doctorate. A Juris Doctorate can be obtained in law schools accredited by the ABA or Accredited Bar Association. Each state has its own bar association, so you need to pass the bar exam in the state you wish to practice law in. In many states, you are required to pass an ethics exam.
Bachelor's Degree
You are required to have a four-year degree from an accredited university or college to be accepted into a law school recognized by the Accredited Bar Association. The ABA does not recommend a particular area of study, nor do law schools prefer a major among others. It's not a requirement for students to have a major in prelaw.
Law schools are open to accepting applicants from a diverse pool who have different backgrounds and majors. This enables students to fine-tune their majors and their ultimate career goals. For instance, you may major in business if you wish to pursue business law, and major in sociology if you want a career in the public sector. Majoring in accounting can be helpful and practical if you wish to pursue tax law.
The Law School Admissions Test
Obtaining a bachelor's degree does not guarantee your acceptance into law school. You have to take and pass the Law School Admission Test or LSAT in short before applying to law schools. LSAT scores are heavily considered by admissions officers. Law schools have not taken the LSAT. The LSAT is a standardized examination that focuses on assessing a student's reading and analytical comprehension skills. These skills are necessary if you want to succeed in law school. The test includes an unscored also determines your eligibility for financial aid. You are recommended to take the LSAT test by October before the next year if you are planning to get a fall semester admission.
Law School
Lawyers are required to graduate from an approved law school accredited by the American Bar Association. They are also required to have a Juris Doctor degree for them to qualify for a bar exam in their state. Having an ABA accreditation means the law school students get a quality legal education. Not all law schools are approved by the ABA and attending them can block your employment prospects.
Law School usually involves core subject coursework as well as general courses including civil procedures, courtroom procedures, criminal law, business law, international law, and constitutional law. There is no standard curriculum in law schools and they vary from school to school. You can take specialized courses halfway through your second year and submit applications for externships during that time.
Internships and Externships
To practice as an attorney, you are required to have more than an educational background. Possessing certain skillsets can aid you greatly as well. Attorneys can enhance these skills by taking opportunities like internships. The majority of law students submit applications for internships as undergrads. Internships involve working for an organization or law firm for a planned duration, often during summer. It is a hands-on working experience where you will perform a variety of jobs or tasks under the watchful supervision of a qualified lawyer.
The competition for these internship positions is usually fierce, so you can consider applying for an externship as well. The process of an externship is similar to an internship but externs usually work for governmental entities and nonprofit organizations. In either case, externships and internships provide an opportunity to polish your skills that are not taught in law schools. For instance, a qualified lawyer will possess argumentative skills. They should have critical thinking skills as they are helpful in negotiating and persuading. A successful lawyer should also have speaking skills as well as writing skills. They should also grasp time management as a skill. These skills can be achieved by working closely with an experienced lawyer for a duration of time.
The Bar Examination
What are the requirements to be a lawyer? Perhaps most importantly, you must pass the bar examination. Graduates from law school who wish to get admission to their respective state's bar have to pass a two-day exam that tests their substantive knowledge and legal principles of the law. Formats for these states can vary from state to state but one day of the exam typically includes a Multistate Essay Examination or MEE in short, which consists of six thirty-minute essay questions. The other day of the test includes a set of questions testing a student's knowledge of their state's laws. If you possess a foreign law degree, you will likely have to sit for this test.
The exam also includes tests that are used to measure your understanding of professional conduct. Many states make it a requirement for lawyers to sit for an ethics exam, as well as the Multistate Professional Responsibility Examination. The MPRE is a two-hour, multiple-choice exam that students take during their time in law school, usually, after they complete their ethics course.
Getting admitted to the state bar may not depend on your performance in a bar examination. Bar examiners in particular states also evaluate the character of an applicant. The majority of states make it a requirement for lawyers to continue their education by taking courses to maintain and keep current their licensure to practice law.
Salary and Job Growth Trends
According to the Bureau of Labor Statistics, the annual median pay for lawyers in mid-2017 stood at 119, 250 dollars. This number falls in the middle of the expected salary range for attorneys. More than 1.3 million attorneys were practicing in the I.S in 2016 and the job growth between 2016-2026 is estimated to be around eight percent. An approximate 65,000 jobs are expected to be available by 2036. There are still more students who graduate each year from law school. This means getting excellent bar exams and LSAT scores is crucial to make sure you stand out from the rest.
Other Options
The Juris Doctorate is the more popular law degree, but you can also pursue a Doctor of Judicial Science or a Master of Law degree depending on your career goals.
A Doctorate of Judicial Science is the prestigious and highest law degree recognized and available in the U.S. It is a second degree that can be achieved after completing a Juris Doctorate or a Master of Law degree. A Doctorate of Judicial Science takes three years to complete. Acquiring a Master of Law degree requires you to first complete a Juris Doctor degree. It takes a year to complete and allows you to specialize and focus on your preferred field of law.
Character and Fitness Review
Since practicing law is a high stake job, which involves the finances and I'm some instances freedom of their clients, each state's bar requires applicants to go through a fitness and moral character review. This review typically involves questions to do with applicable disciplinary actions you may have faced in law school or college, your general social conduct, your criminal history, your academic conduct in law school, and other general inquiries to gauge your ethical conduct. You are required to pass this review before you can obtain your state's law license.
Oath
Prospective lawyers are required to a legally binding oath that they will follow the constitution of the United States and uphold the codes stipulated in it. They are also expected to follow the laws outlined and the constitution of their states.
License
Completing the necessary requirements will make you eligible to receive your law practicing license from your state's Supreme Court or its high court equivalent. However, you should check your state's bar association requirements for a license to practice law. Some popular fields law lawyers love practicing in include:
Personal injury law is a legal term for injury sustained by a person to their mind or emotions or body. In many law jurisdictions, personal injury refers to a type of tort lawsuit where a person hires a personal injury attorney to sue the party responsible for the harm done to their mind or body or for medical malpractice.
Business Law
Also known as corporate law, business law entails the governing of relations, rights, and conduct of businesses, organizations, companies, and persons. A business attorney legally practices issues to do with corporations or the theory of corporations.
Family Law
Family law is a branch of law that addresses issues to do with families like child custody and divorce. A family lawyer represents clients facing lawsuits to do with divorce, child custody, and domestic issues.
Lemon laws are laws that provide remedies for car purchasers and other consumer goods to compensate them for products that fail to meet required standards of performance and quality.
Real Estate Law
Real estate law addresses the use and ownership in transactions between parties and uses the principles in property law. It is a branch of law that deals with the usage and possession of land and the way it is utilized. Estate planning attorneys represent their clients by helping them manage their real estate property. A probate attorney is in charge of handling the procedure of administering an estate after a person passes on.
Bankruptcy Law
Bankruptcy is a legal process a business or individual initiates when they Gail to make their debt payments and seek to have their debts reorganized or discharged by a court of law. A bankruptcy attorney represents clients facing bankruptcy litigation.
Car Accident Law
Car accident law refers to legal processes which help to determine the party responsible for property and personal damage incurred from a motor vehicle accident. This branch of law entails principles used in negligence which are also used in personal injury cases. An auto accident attorney represents clients facing car accident litigations.
When wondering "What are the requirements to be a lawyer?" the answer is about more than certifications. Aspiring lawyers need to have skills in listening, and written and oral communication. They are required to have skills in logical thinking argumentative skills to present court cases and rhetorical persuasion which helps them to identify where and when laws are applied in a given scenario. Since their profession often deals with difficult clients, lawyers should possess traits such as patience, empathy, and interpersonal skills. Having good negotiation skills helps them to communicate with opposing counsel. Lawyers need to have concentration abilities, persistence, and sophisticated critical thinking to analyze complex legal matters and sift through legal documents.
Technological skills are also beneficial to lawyers when they navigate case management systems or software used to conduct research or prepare legal documents. Attorneys with experience working for clerkships, clinics, and nonprofits often have a good chance of getting employment. Students who have a business background also have good chances to be hired by prospective corporate employers. A good lawyer will take into account the skills needed to perform their duties as legal counsel to their clients. They uphold their attorney-client privilege and represent their clients to the best of their ability in a court of law.
A reliable lawyer will gather enough evidence to present in court and prove their client's innocence. You can choose to practice in many aspects of law depending on your preference. You can also choose to be a general practice lawyer if you want to dabble in different fields of law. Make sure you get certification from an accredited law school recognized by the American Bar Association. This will help to ensure you get lucrative job prospects as a lawyer and also get quality training to represent your clients well in court. Following the steps outlined above will ensure you get the most out of your time learning about the law in a law school as well as speed up the process to get your law license. It will ensure that you practice the skills needed to become a successful lawyer regardless of which field you choose to practice in.