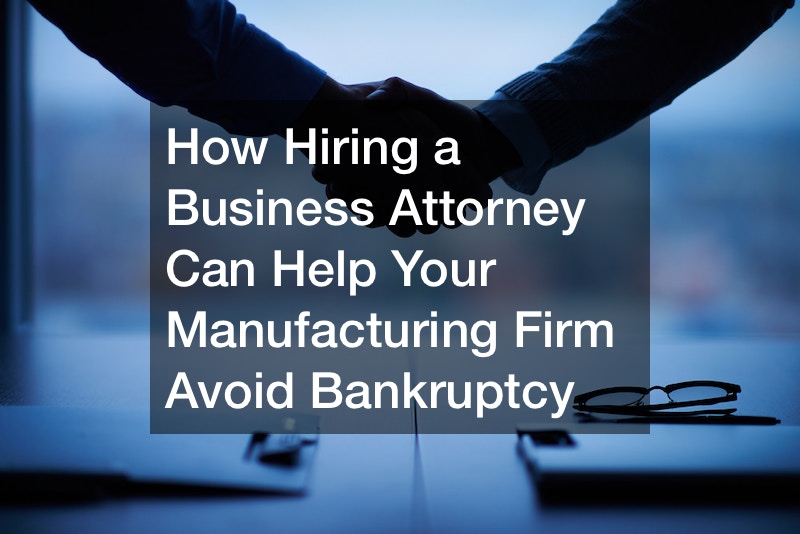 Managing a manufacturing firm requires more than the ability to choose the right products to create and sell. In order to successfully operate a manufacturing firm, you will need to understand the ins and outs of the industry from the ground up. If you want to protect yourself as much as possible from filing for bankruptcy or encountering other financial woes, you can do so by hiring a business attorney. Hiring a business attorney is advisable for any and all business owners, even those who are not currently facing financial troubles. The right business attorney will help alleviate stressors associated with financial issues while simultaneously guiding you through any challenges and obstacles you are faced with along the way.
What is a Business Attorney?
Before hiring a business attorney, it's important to become familiar with what it is that a business attorney offers. Business lawyers specialize in the formation and dissolution of business entities, whether you choose to pursue a venture as a sole proprietor or with an LLC, S-Corp, or C-Corp in place. Business attorneys are familiar with all types of business formations and can help you to choose the path that is optimal for you based on your investment and the type of business you are interested in running.
Business attorneys specialize in contract law. They can assist clients with reviewing, editing, and even drafting entirely new contractual agreements. If you are someone who is thinking of going into business with another partner, it is important to have your business attorney review contracts and agreements prior to proceeding. The more protection you have with a business attorney by your side, the less likely you are to encounter financial struggles or issues that may lead you down the road to bankruptcy.
Advantages of Hiring a Business Attorney
Understanding the advantages of hiring a business attorney is essential before settling on a decision that is right for you and the future of your company. Hiring a business attorney means having immediate access to information pertaining to local and national laws as it is relevant to your own operations. Business attorneys are also well-versed in various areas and industries, which can provide you with valuable insight into the inner workings of markets that are most familiar to you. When you are working alongside an attorney who assists with your business operations, you can ask questions and inquire about future potential opportunities to determine which options are best for you.
A business attorney will also work to ensure you remain protected at all times. This includes you as an individual as well as your business entity. By reviewing negotiations, contracts, and partnerships, your business attorney can determine which route is best for you and likely to result in success. When you have the right business lawyer by your side, you can minimize the risk of running into issues that result in requiring you to file for bankruptcy.
Addressing Tax Issues and Relief
Addressing tax issues is not always easy, nor is it a straightforward process. This is especially true for those who have not dealt with the IRS in the past for personal or business reasons. Hiring a business attorney is always advisable for anyone who is in need of IRS tax relief or guidance when it comes to handling and filing taxes for their own company. When it comes to managing a business entity, it may be best to pay taxes ahead of time and quarterly, depending on the level of income you are generating on an annual basis.
Once you have an accountant and the proper legal representation by your side, you can determine when the appropriate time is to pay taxes and handle any fees or additional payroll taxes that are also required from you every quarter. Keep in mind that if you currently employ others in your business, you will also be responsible for paying taxes on their income as well as payroll taxes. Working together with a business accountant is also highly advisable whenever you want to avoid the possibility of having to file for bankruptcy with your manufacturing firm.
Filing Bankruptcy
When it comes to hiring a business attorney, there is often no better time to do so than when you are attempting to avoid the process of filing for bankruptcy. Working with a business lawyer or a bankruptcy attorney who has experience in filing numerous bankruptcy suits is highly recommended. Even if you have been working in the business for years or even decades, the process of filing for bankruptcy can be easily streamlined when completing it via a professional. Working with a legal professional such as an attorney is also a way for you to ensure that the process has been completed properly and is going as smoothly as possible.
How a Business Attorney Can Help With the Bankruptcy Process
Filing for Chapter 7 or Chapter 13 bankruptcy can feel daunting and overwhelming. This is especially true for those who have little to no experience when it comes to financial issues or filing for bankruptcy themselves. Before you file for bankruptcy, it's best to turn to your trusted attorney for insight and guidance into the actual process itself. When you begin working with your attorney, he or she will inquire about all of your financial records, income sources, and current standing in terms of investments and liquidities.
Once your lawyer becomes familiar with your case and the financial picture you are dealing with, they can begin to offer advice in terms of which steps to take next. In some instances, your bankruptcy attorney may also help you by completing the filing of paperwork and speaking to any legal professional necessary in order to expedite your case.
Seeking IT Guidance
Building a successful manufacturing firm today requires more than the ability to manage in-house operations. In order to expand and put your business on the map, you will also need to develop a viable online presence. Building an online presence for your manufacturing company will not only help to solidify your reputation as professional and reputable, but it will also help you to appeal to a much wider audience of prospective customers, clients, and even future potential partnerships.
To get started with the creation of your online presence, you may need to turn to a trusted small business IT service. Small business IT services are optimal for any business that is interested in expanding its reach both online and off. An IT guidance service provider is not only capable of building an online presence, but they can also work to ensure that your connections are always secure and protected. Because security is a top priority for anyone who has an online presence today, selecting the right small business IT provider is key.
Why IT Guidance Matters
Today, it is becoming increasingly difficult to launch a successful business or brand without the use of the Internet and an online presence. As competition increases in most industries, companies from around the world are learning the benefit of developing a presence online with an official website as well as the use of various social media platforms. IT guidance can ensure you are on the right track while optimizing your visibility both online and off. IT guidance services can also help to boost your website's SEO, or search engine optimization. A website that has been fully optimized for search engines is much more likely to appear within the first pages of results when using engines such as Google, Bing, and Yahoo!.
Handling Workers' Compensation Issues
Running a successful business requires the ability to manage co-workers and employees while simultaneously handling the services and inventory you manage. If you are overseeing employees in any capacity, it is best to have a workers compensation lawyer available at all times in the event of a case. Workers' compensation is a common issue that can arise from an accident or injury that occurs while an employee is working on-site. If you have at least one employee, familiarizing yourself with compensation lawsuits and cases is a must. The more you understand workers' compensation rights and case types, the better you can prepare yourself and your business with the right legal representation by your side.
Assisting With Contracts and Documents
As a manufacturing firm owner or manager, hiring a business attorney can assist you with contracts and documents every step of the way. From making new deals with suppliers to connecting with potential partnerships, you should never sign a written contractual agreement before reviewing it with your business attorney by your side. In addition to understanding how to review, edit, and update contracts and legal documents, professional business attorneys are also familiar with various tools and FBA prep software which can help them better manage information and clients with ease.
Why Assistance With Contracts Matters
Even if you consider yourself savvy when it comes to reviewing contracts and legal documents, it is always best to have another pair of eyes on the situation. A business attorney will help you to see problematic issues from another third-party angle. Having a third-party overseeing contractual agreements can also help you to avoid potential pitfalls that you might have otherwise missed on your own. A business attorney can also help you to determine if you are heading into a deal that is not beneficial for you.
Working With Contractors
Hiring a business attorney is also recommended once you begin to seek out suppliers, manufacturers, and even local contractors that offer electrical work or steel supply warehouses. Whether you are in the market for the best skid pallets for your own manufacturing firm or if you are seeking a secure shredding service, your attorney can help you to find the right resources to ensure you are on the right path. Managing a business on your own is not only time-consuming, but it can also take up much of your own resources. If you have an attorney who represents you and your firm, they can work with contractors on your behalf. An attorney that you can trust and rely on can ultimately help to make decisions that will benefit your business in the near future.
Why Work With Contractors
Working with contractors is always recommended whenever you are managing a business. Rather than hiring a full-time employee, you can choose to hire a part-time contractor for specific jobs and tasks. From paying a flat-fee rate to paying an hourly rate, there are different payment options to choose from when hiring a contractor. Working with a contractor also provides you with much more flexibility when choosing who to hire and what type of projects you intend to take on at the time.
Handling Legal Issues
Handling legal issues is one of the biggest motivators for hiring a business attorney. Whether you are running a small local shop or an international brand, the right attorney can make all of the difference. If you require a traditional business attorney, an accident attorney, or even a lawyer who specializes in intellectual property, legal representation is often key to the best outcome possible in any case or scenario.
Anyone involved in the realm of business for an extended period of time is likely to encounter some issue, whether legally or financially. If you are new to running a business, the last issue you want to face is legal or financial woes on your own. When you have the right lawyer, you can spend more time focusing on what matters, which can ultimately help your manufacturing firm from having to file for bankruptcy. Before hiring any attorney for your business, be sure to inquire about their level of experience and whether or not they are familiar with the type of operation you are currently running.
Hiring a business attorney is one of the best ways to go about protecting yourself, whether you're an investor or if you're the sole entrepreneur of a manufacturing company. Ensuring you have the right people around you can make all of the difference when it comes to building a successful business or empire in any market or industry today. The right business lawyer by your side will help you every step of the way in order to prevent filing for bankruptcy or losing your business altogether.