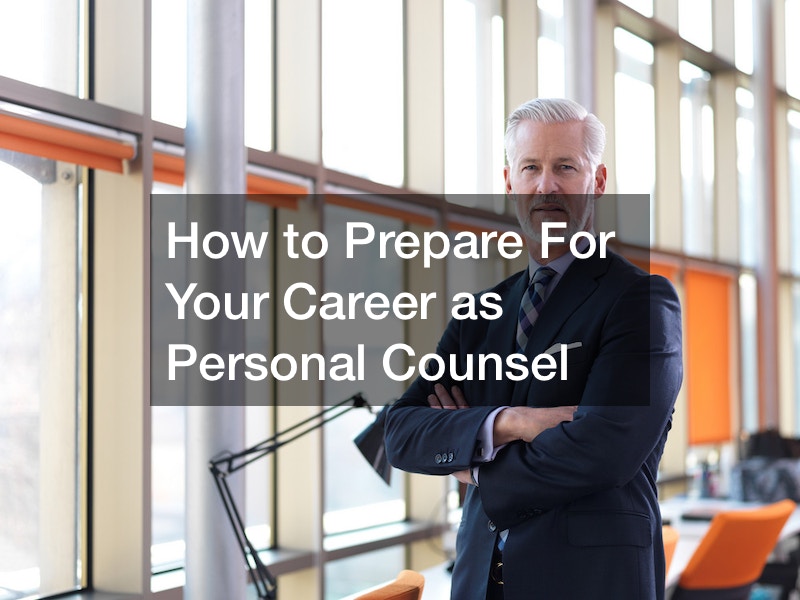 Preparing for a career as personal counsel is no small feat or accomplishment. As you have worked your way toward your degree and completed law school, you will need to determine how you will be represented as personal counsel once you begin retailing clients on your own. Knowing how to best prepare for your new role as an attorney or counsel in any capacity is a way for you to ensure you are properly prepared for the work that lies ahead.
Get Your Name Out There
One of the most challenging aspects of working as personal counsel is getting your name out there and in the public eye. Spreading the word about the counsel services you provide is not always as simple as telling those in your local area about your abilities, skills, and areas of expertise. In some cases, you may need to devise and launch a winning marketing strategy with the help and guidance of a legal marketing service.
The Importance of Marketing Today
Marketing is an integral component in building and establishing any business or brand, regardless of the industry or market you are in. Without marketing, your competition, locally and online, will likely outperform your own business in terms of attracting new clientele and accepting new cases to represent in a court of law. The right marketing strategy will not only help you promote your legal services, but it will allow you to do so in a way that is heavily targeted to ensure the audience and demographics you intend to reach see your promotional content and advertisements the most.
Tips to Get Started With a Winning Marketing Strategy
When you want to get started with marketing, online or off, you will first need to determine who you intend to represent and the audience you want to attract. Once you know which demographics you intend to reach, you can then compare platforms and marketing avenues that are most likely to garner you the widest reach. Incorporating a marketing strategy will also you to consider how you wish to be portrayed and the message you intend to convey. Consider what type of case you intend to take on to begin promoting the work you do, locally and online, as this will help you to spread the word among groups who may need your services most.
Grow Your Practice
Anyone who is serious about working as personal counsel will need to understand the importance of business growth and scaling. Growing your business and clientele is essential if you are working as counsel in any capacity and whether you choose to do so on your own independently or if you are working for another local law firm in your area. Growing your practice will require you to network and mingle with other lawyers and legal professionals in your region.
Tips to Expand Your Legal Clientele
If you're looking for new and interesting ways to attract new clients to your own lawn firm or to you personally as a lawyer, consider implementing a winning marketing strategy, locally and online. Work with other lawyers and law firms by referring business to one another is also a way to scale your clientele in a shorter period of time. If possible, cultivating an online following with the use of a website, blog, and social media can also help you streamline the process of establishing yourself as a credible attorney and as a reputable source of legal information and guidance.
Decide Your Focus
When you go into the field of law and intend to work as personal counsel, you will need to decide on your focus. While this is possible as you are working toward a degree and completing law school, some individuals may find it difficult to determine which area of law is right for them to practice in at first. If this is the case, you may need to take some time to compare your options and learn more about different fields of law before choosing the path that is optimal for you.
Some of the most well-known areas of law include family law, criminal defense lawyers, accident attorneys, and even individuals who may work as a Medicaid lawyer. Learn about each area of law that appeals to you to determine which sector is ideal for the type of clientele you prefer to represent and assist when they are in need of legal representation. Learning about different cases in each area of law can also help you become more familiar with the type of cases you may need to accept and take on and what you can expect once you are in a courtroom yourself.
Build Relationships
Anyone who is a successful personal counsel representative will tell you just how important it is to establish, cultivate, and build professional relationships throughout the course of their careers. From connecting with other legal professionals in similar industries to working with local bail bondsmen who may be able to assist your own clients, there are many ways to go about establishing and building relationships when you are working as an attorney today. You can build relationships with other business owners in your area to promote one another's services, helping to expand the amount of visibility and promotion you receive in your own local community.
The Importance of Building Professional Relationships
Establishing and building professional relationships is an integral element of working in law and representing clients on an individual basis, especially if you are new to a city or region. In order to garner the trust of those who may require your legal services at one point or another, it's important that those in your community feel as if you are reputable and also known by other business owners they currently rely on and utilize on a regular basis. Making as many connections as possible when you are looking to establish yourself as a counsel or as a legal expert in any capacity can go a long way in ensuring your ability to achieve success over time.
Build an Office
Building an office is a top priority for those who intend to work independently as personal counsel on their own. When you are thinking of managing clients on your own, you can do so by finding or building an office from the ground up. If you choose to build an office, however, you will likely need to work with a range of professionals, from a commercial electrician and commercial pavers to a suitable ceramic floor tile installer, depending on the type of construction or renovations you are most interested in. Once you make the decision to build your very own office, it's best to do so with a reputable commercial construction company to guide you through every step of the way.
Benefits of Hiring a Professional Commercial Construction Company
Hiring a commercial construction company to build your office is a way to ensure you are doing so while abiding by any zoning laws, restrictions, and guidelines that may currently be in effect based on where you are currently living and where your office will be located. Working with commercial construction experts is also a way for you to learn more about all your options when selecting materials, flooring, tiles, and layouts for your office based on the size of your lot, your budget, and any timeline you have set in place for the project. A commercial construction company will also provide you with work warranties and guarantees to ensure the work they deliver is high-quality.
Protect Your Practice
Anytime you are working as personal counsel in any capacity, you will need to consider how you intend to protect your practice. Not only is it essential to protect the data of your clients and those you represent, but you will also need to take time to invest in the right security solutions for your office building itself. From working with a commercial lock company to investing in a complete security system, there are many different solutions to consider when it comes time to protect your practice from the ground up.
Benefits of Investing in Security Measures
Whether you're interested in investing in advanced lock technologies that are available today or if you want to learn the ins and outs of a commercial security system, there are many advantages of investing in new security measures for any law office today. Displaying a burglar system, security cameras, or even motion sensors around your office building's windows is one of the best deterrents for burglars and thieves. Additionally, with new technologies today, it is now easier than ever to monitor and keep an eye on any cameras you currently have installed in or around your office space with the use of an application and a remote wireless internet connection.
Keep Office Comfortable
Keeping your office comfortable and appealing is also a key factor in establishing and building a law practice of your own. Your office should not only appear warm, welcoming, and inviting, but it should also feel comfortable year-round. If you are finding it difficult to maintain a steady temperature in your law office year-round, it may be time to turn to a professional local HVAC company for the inspections, repairs, or replacements you need.
Advantages of Hiring HVAC Companies
Hiring commercial HVAC companies is highly recommended if you are the owner and manager of your own commercial space that is currently being used to represent your legal clientele. HVAC companies provide experts who specialize in different HVAC systems and setups, whether your building includes traditional air conditioning units or if you have a central cooling system in place. HVAC specialists who work in commercial buildings are also familiar with traditional and modern furnaces, allowing them to easily get to the bottom of issues that you may be experiencing.
Whether you need a new programmable thermostat or if you are simply interested in updating your entire HVAC system, you can do so when working with the right HVAC specialists who work in commercial properties by your side. The most reputable HVAC companies will also provide you with work warranties and guarantees anytime they are taking on and completing a new project. Before choosing the HVAC companies that are ideal for you, be sure to verify that they are also licensed and insured before allowing them onto your commercial property to get to work.
Store Records
For those who are serious about working in law as personal counsel, knowing how to properly and appropriately store client records is imperative. From investing in storage rental solutions to using secured solutions that are available on the cloud, it is imperative to consider how you will go about storing the sensitive information about your clients and where you will store the data. Storing records appropriately can mean the difference between being held in high esteem by members of your community and losing all trust of those near you and potential clients in the future.
The Importance of Storing Records Properly
As an attorney or any professional working in law, storing sensitive information and clientele details in a safe and secure location is imperative. Due to client-attorney privilege, it's one of the most important aspects of building your reputation and establishing yourself as counsel, especially if you intend to do so independently and on your own with your very own law firm location. With the rise of breaches in terms of online data, usernames, passwords, and sensitive personal information, knowing how to correctly store, organize, and access the data of your clients at all times should be thought about before you begin representing others in any capacity.
Anyone who has a vested interest in working as personal counsel will need to know what to expect when joining the industry and filling the role throughout their careers. The more familiar you are with the role of a personal counsel representative, the easier it will be for you to connect and communicate with those you represent, whether you are doing so on your own time or in front of a judge. Preparing for your role as an attorney or counsel beforehand will also help you attract new clients as they are much more likely to place their trust in you once you have established a reputation for yourself and the services you provide.